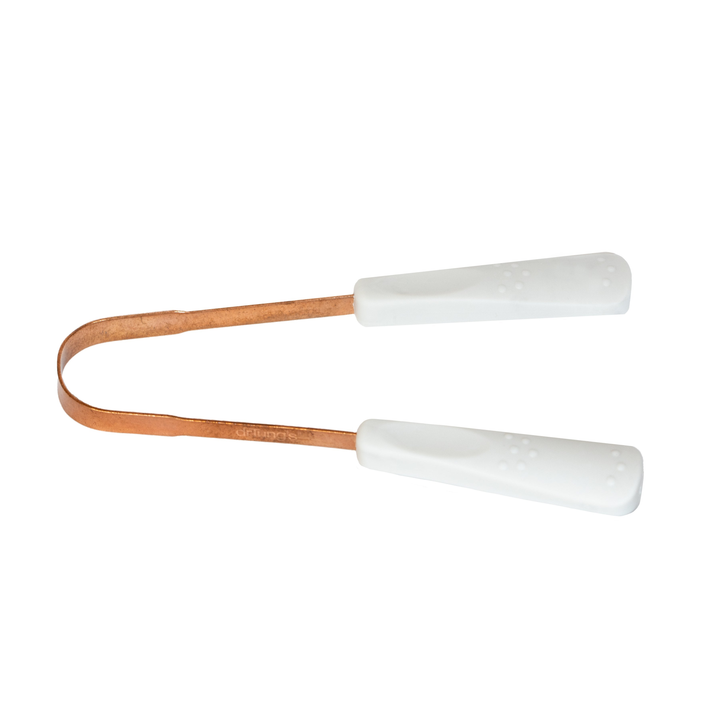 Our Copper Care Tongue Cleaner is designed specifically to clean the tongue. It's smooth, pre-curved edge gently scrapes food, microbes, soft plaque, and films from the surface of the tongue for a quick, comfortable clean that reinvigorates the taste buds and freshens breath.
Copper has been used as a medical sterilizer since 2200 BC, and in 2008, the US Environmental Protection Agency declared copper the only metal with antimicrobial properties. It zaps microbes on contact, making it an ideal material for oral care tools. This trace element essential for cell metabolism capably clears away pathogenic bacteria, viruses, and yeasts on contact.
The tongue is key to the microbiome one of the most overlooked organs in the body. The simple process of tongue scraping is an ancient Ayurvedic oral care remedy that clears the mouth of bacteria and build-up that contribute to imbalanced oral ecology. It also enhances taste bud performance and sensitivity. Once freed to function optimally, each taste bud can receive strong flavor signals from food, and this may add zest to life!
With copper magic wand in hand
Remove toxins in one fell swoop
By scraping away the plaquey-goop!
How to Clean the Tongue:
Follow the 8 Steps of Successful Self-Dentistry. Use two hands to grasp the easy-grip handles and place the tongue scraper in a comfortable place on the back of the tongue. Pull the scraper from back to front, allowing the edge to gently scrape off the coating on the tongue. Rinse the cleaner and scrape until the tongue is clear of film.
Caring for the Tongue Cleaner:
Happy Gums Clay Toothpaste or create a paste of apple cider vinegar and/or soap with baking soda or salt and apply it to the copper. Buff with a cloth and rinse with warm water.