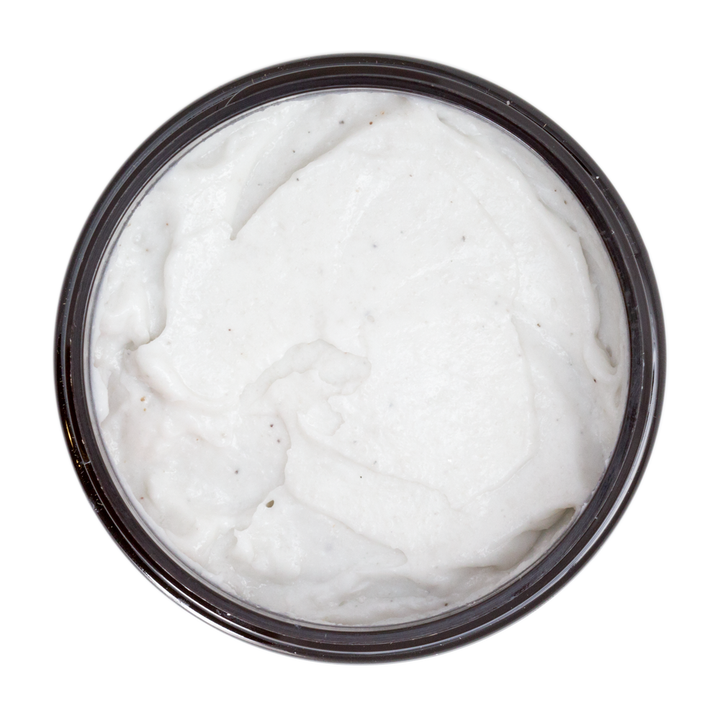 Quick overview
Details
Ingredients
Peppermint Exfoliating Scrub is an exfoliating superhero as it superbly softens skin from head to toe with seaweed and finely ground Pumice infused into a minty-dream crème. An elegantly effective whole body scrub, it can also be used to slough dry skin from hands and feet, and with gentle pressure as a facial cleanser, leaving skin at its silky-smoothest. Our Peppermint Exfoliating Scrub is splendid during hot, humid weather as it tingles, freshens and cools as it moisturizes.
"My dear friend Nadine Artemis created this peppermint scrub… Nadine has been my mentor in so many things essential oil and otherwise… I recommend her products above all other essential oils." - Alanis Morissette
Though it can be used whenever you would like, we especially recommend you use this scrub first thing in the morning as an awakening indulgence, or try it after a long day as a refreshing pick-me-up. It softens the skin through gentle yet gorgeously granular exfoliation, leaving behind an improved texture and lasting moisture. Whenever you use it, Living Libations Peppermint Exfoliating Scrub is sure to leave your skin feeling silky soft and deliciously smooth. 
Directions: Great for exfoliating the whole body, especially hands and feet, it can with gentle pressure be used as a facial cleanser. For body, apply to wet or dry skin (excellent used dry on rough feet). Rinse. Great for hot humid weather as it cools as it smoothes and for many it is moisturizing enough in hot climates that an additional lotion would not be needed after a bath or shower.
120ml
| | |
| --- | --- |
| Golden Jojoba Oil - Simmondsia chinensis | Glorious, Golden Jojoba nourishes and conditions thirsty skin. Jojoba has unparalleled ability to moisturize the skin, balance oil production, deep clean pores, and create long-lasting conditioning effects that soften skin to perfect silk. It is packed with peptides and lipids and contains the highest levels of phenolic compounds found in nature along with antioxidants and all soluble forms of vitamin E! |
| Virgin Coconut Oil - Cocos nucifera | Our pure, pristine Virgin Coconut oil satiates skin, offering magnificent moisture and resilience. Coconut oil is smoothes the appearance of fine lines, and a sentinel for the skin's moisture barrier. |
| Aloe Vera - Aloe barbadensis | Aloe Vera is a magical, succulent plant that grows in warmer climates. It has a sturdy leaf which offers a clear, gelatinous pulp. This pulp creates an incredibly soothing balm for delicate skin. Offering pitch-perfect levels of hydration, Aloe has magnificent properties that seep into the skin to relax redness and puffiness. Our Aloe Vera offers a double dose of moisturizing protection for the skin. As a naturally-occurring moisturizer, it sinks into skin, locking in moisture. At the same time, it forms a perfectly, porous layer on top of the skin to keep moisture in and keep the rest out. |
| Beeswax - Cera alba | Beautiful Beeswax is a breathable wax, brimming with nutrients that lock in moisture. |
| Bladderwrack Seaweed Oil - Fucus vesiculosus | This succulent Seaweed is naturally mucilaginous to lubricate the skin. Very rich in vitamins and minerals like calcium, magnesium, B vitamins, and silica. |
| Pumice Stone | Our super scrub contains ultra finely ground Pumice Stone, an incredibly porous volcanic rock that has been used to exfoliate rough skin for thousands of years. Pumice stone dispels dead skin and callouses, turning your roughest areas into smooth sailing. |
| Marshmallow Root - Althaea officinalis | The gooey offerings of this root give us an unexpected emollient that is softening and balancing. Marshmallow is used to moisten dry, rough skin, reduce redness, and bring balance to overly dry or overly oily skin. |
| Slippery Elm Oil - Ulmus rubra | Slippery Elm is a mucilaginous bark with slippery, soothing benefits that help to soften the skin. It slips moisture into skin to diminish dryness and redness. |
| Lemon Oil - Citrus limon | Luscious Lemon clarifies, energizes, and purifies the skin from head to toe. It is excellent in cleansers as Lemon tones, firms, and infuses skin with resilience. |
| Peppermint Oil - Mentha piperita | Peppermint feels nice like ice! It cools and soothes skin and is reputed to neutralize excessively oily skin. Our zippy Peppermint oil is distilled from fresh leaves, and one drop is a juicy wakeup call for the skin and soul. |
| Grapefruit Oil - Citrus paradisi | Toning, tightening Grapefruit refreshes the skin while smoothing skin texture. |
| Sage + Rosemary Oil - Salvia officinalis + Rosmarinus officinalis | These cogent, concentrated supercritical compounds capture the full symphony of Sage and Rosemary as an extract which yields benefits for hair and skin, and sustains this conditioner's freshness with opulent antioxidants. |
Key Features:
Natural Exfoliant
Natural Scrub for the Body
Organic Body Scrub