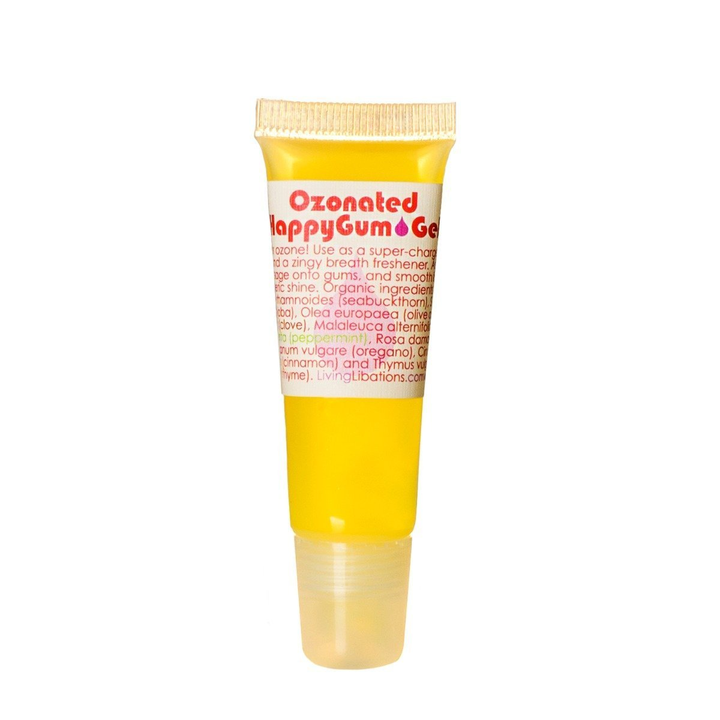 Quick overview
Details
Ingredients
Open wide for ozone! Living Libations Ozonated Happy Gum Gel is a super-charged, botanical toothpaste, massage gel for your gums, and a zingy breath freshener. Add a drop to floss or smooth on the lips for an atmospheric shine.
Our ozonized oral care creation, made of three atoms of oxygen (O3), delivers ozone to your tooth-brushing regime and adds a fresh depth to clean. Nascent oxygen and essential oils are natural partners for a happy mouth. Use as toothpaste, on floss, and as a massage-gel for gums.
Brilliant visionary, Nikola Tesla, was an electrical genius with over 300 patents including a wireless light bulb, wireless communication, ionized gases, cold plasma, and ozone generation for oxygen therapy. In 1896, Tesla was issued a patent for an ozone generator. He formed the Tesla Ozone Company and began producing ozone generators. He created a powerful gel, made by bubbling ozone through olive oil until it solidified, which was used by those seeking botanical-biotic freshness
Use: Add a golden pearl to a dry toothbrush. Swipe along tongue scraper, a drop to a length of floss for a deep clean that gets in between teeth. Use it every day for a botanical blast of freshness.
Understanding the Aroma of Ozone
If you are new to ozonated oil, the smell can be surprising as it is reminiscent of the aroma of charged air during a lightning storm. Most people love the fresh charged aroma of ozonated oil while others, at first sniff, find it strong and unusual. These folks find it more enjoyable after using ozone for a few days. Each formula is enhanced with the delectable dance of infused aromatic essential oils to further activate the olfactory and skin experience.
10ml 
| | |
| --- | --- |
| Ozonated Olive Oil - Olea europaea O3 | Olive oil nourishes and moisturizes the mouth while helping to remove plaque from the teeth. |
| Seabuckthorn - Hippophae rhamnoides | This is an incredibly rich and vital oil extracted from a bright orange berry. It is perfectly balanced in omega 3, 6, 7, and 9 essential fatty acids. Our Seabuckthorn berry is a special super critical extract that captures over 190 bioactive substances from the edible berry. The oil is lush source of vitamins C, E, provitamins A and B, beta carotene, carotenoids, precious phytosterols, and rare palmitoleic acids. All of these extraordinary plant properties contribute Seabuckthorn's blessing to your mouth. |
| Peppermint - Mentha piperita | Peppermint's cool breezy taste gives you long-lasting fresh breath. Our Peppermint is a genuine distillation of the fresh leaves and comes from a fourth generation family of distillers in France. The Peppermint in commercial toothpaste is artificial menthol and only offers flavor. Real Peppermint is a potent and pleasant friend for oral care. It also inhibits the bacteria that cause bad breath. |
| Clove Bud - Eugenia carophyllata | Distilled from the flowering buds of the clove tree, this cogent culinary plant is robust breath freshener and king of oral care. Clove oil has freshened breath and been an optimal choice for oral care since ancient times. Its botanical constituents of eugenol, esters, and sesquiterpenes, combine to create a powerhouse for a clean, fresh mouth. |
| Rose Otto - Rosa damascena | Rose is a precious and elegant essence. It takes sixty roses to make one drop of rose otto essential oil! It is one of the most valued oils for its tonifying effects. |
| Tea Tree - Malaleuca alternifolia | Traditional Tea Tree is an herbaceous Herculean do-all. It is naturally packed with magnificent mouth attendants. Potent plant compounds of cineole and propanol work to refresh the mouth, prevent tartar build-up, and banish the bacteria that cause bad breath. Steam distilled in Australia, Tea Tree oil evokes a super-clean, piney-clean aroma. |
| Oregano - Origanum vulgare | Our wild Oregano oil is grown in the mountains along the Mediterranean. It contains two phenol compounds that contribute to its unique property: carvacrol at concentrations over 65% and thymol at 3.4% concentration. It is considered a hot oil and an excellent botanicalbiotic that has freshened breath for centuries. |
| Cinnamon - Cinnamomum ceylanicum | Our true Cinnamon Bark oil from Madagascar is is a potent plaque cleanser and breath freshener. It is a classic spice, and tastes nice, too!. |
| Sweet Thyme - Thymus linalool | This is a rare variety of the Thyme species. It is a gentle toner that balances oral secretions. Sweet Thyme is also a potent botanical-biotic that banishes bad breath bacteria. |