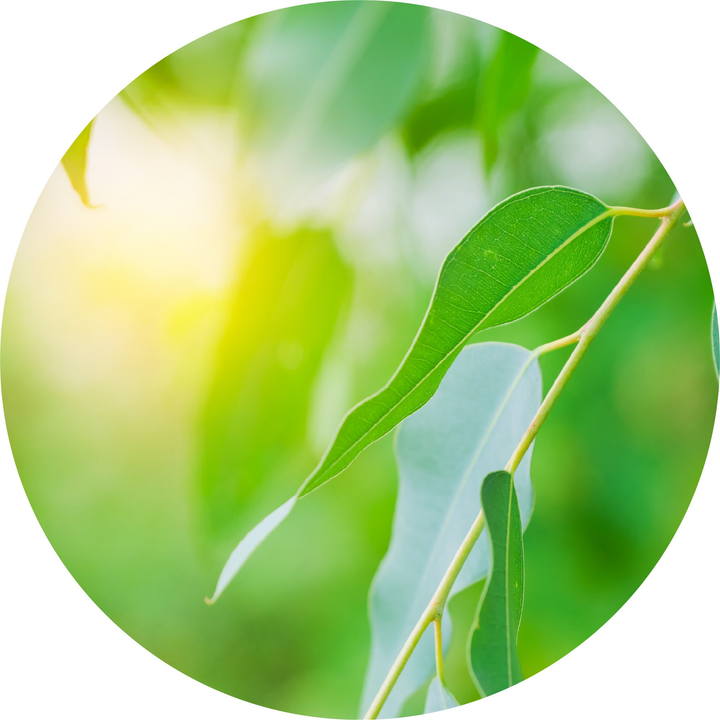 View or Download Certificate of Analysis
Easy-breathing Eucalyptus Radiata Essential Oil radiates coolness and clarity. Radiata is the velvetiest of the vigorous Eucalyptus family and airways are always happy to sip on its smooth, crisp scent. Its reviving aroma is a classic component of vaporous chest rubs.
Botanical Name: Eucalyptus radiata 
Botanical Family: Myrtaceae
Extraction Method: Steam distilled
Part of Plant Distilled: Leaves
Country of Origin: Australia
Cultivation Method: Organic
Composition: 100% Eucalyptus radiata 
Consistency: Thin
Scent Description: Camphorously crisp with a dash of fruitiness. The velvet verdancy of this elegant Eucalyptus is the most myrtle-esque of the eucalyptuses.
Blends well with: Lemon, Sandalwood, Rosemary, Orange, Cypress, Juniper, Ravensara, Black Spruce, Douglas Fir, White Fir, Sage, Blue Mountain Sage, Cape Chamomile, and Grapefruit.
Components: Terpene alcohols with cineole, 3-4% aldehydes (neral and geraniol)
Use: Soothes and decongests the skin. Abates seasonal stuffiness. Perfect for vaporizers, diffusers, dehumidifiers, and steaming sinuses. Stimulating chest balm. Wonderful in winter syrups. Add to a salt pipe and aroma diffuser. Robust in rubbing oils for massage and dry brushing. A classic camphorous aroma for saunas. Cleansing in baths. Excellent in oral care. Aerating for air travel.

"This is the most pleasantly fragrant of all eucalyptus oils; it is fresh with gentle citrus overtones." ~ Schnaubelt, The Intelligence of Essential Oils
The faithful friend and first promoter of all Eucalyptus species, Joseph Bosisto, chose to use Eucalyptus Radiata Essential Oil first as a pharmacy chemist in 1854 in Australia.
Eucalyptus radiata is a large tree prevalent to the wetter woodlands of New South Wales, Australia.  The trees are frequently coppiced, and the aromatic silvery-green narrow leaves are harvested to be steam distilled. Eucalyptus trees grow quickly, and these trees quickly regrow to produce a sustainable harvest. The fluffy, white pompom flowers appear uniquely from the leaf axils and mature into seed filled capsules.
Also known as Narrow-Leaved or Black Peppermint, this Eucalyptus species is appreciated in aromatherapy "often in preference to other cineole-rich oils, as it would appear to present fewer contraindications because of its modest content of 1,8-cineole (up to ~50%), while encompassing its benefits. It is well suited to diffusion. For mental fatigue, it blends very well with conifer oils, rosemary, cardamom, lemon, grapefruit, and lime, and for respiratory congestion, perhaps with kunzea and myrtle." (Peace Rhind, 2020)
Smelling like its camphorous-companion Eucalyptus globulus Essential Oil in aroma yet fruitier and smoother, it is a great go-to essence for all things airways. Sniff it, diffuse it, salt pipe it, sauna it, dab it neat below your nose, or massage it on and every breath will be easy-breezy.
"The composition of this oil is such that it could be considered an aromatherapist's "designer oil." Together with its attractive fragrance and low price this is the number one all-purpose eucalyptus oil. The combination of terpene alcohols and cineole is highly effective… It also contains 3 to 4 percent aldehydes (including neral and geraniol), which lend this oil an especially broad spectrum of action, as well as its exceptional aroma." Schnaubelt, Advanced Aromatherapy
"Commercial Eucalyptus oils smell and feel like… Eucalyptus oil. The redistillation (one phase distillation of an essential oil intended to separate out desired ingredients from undesired components) of Eucalyptus oils to produce the commercial cineole-enriched form reduces then to the molecular plane. The fragrance of an authentic sample of Eucalyptus radiata, however, reflects the whole organism, Its dramatically different and more complex. Comparing commercial Eucalyptus with authentic Eucalyptus radiata juxtaposes the one-dimensional sting of an isolated component (1,8 cineole) with the undomesticated fragrance of a specific plant species." ~ Schnaubelt, The Intelligence of Essential Oils