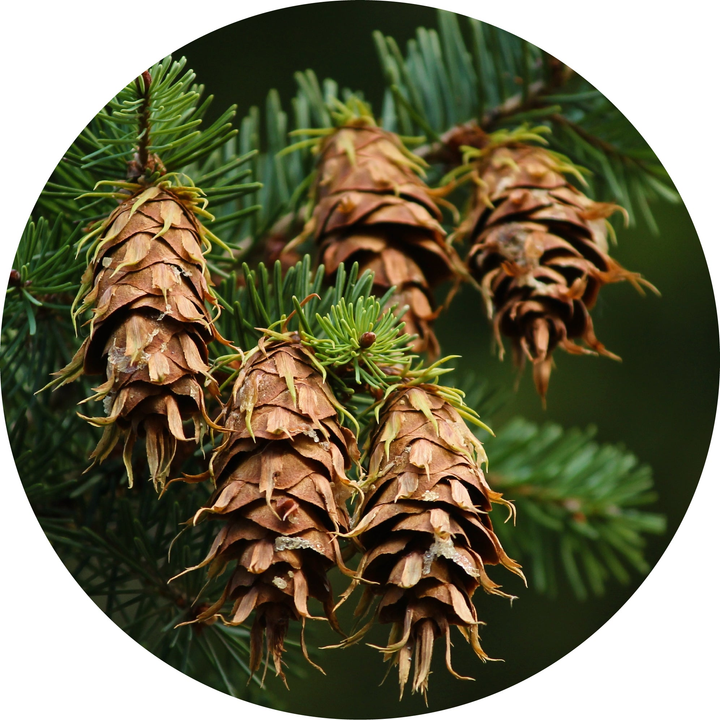 View or Download Certificate of Analysis
In the rocky mountain ranges of Canada, majestic forests exhale an aromatic alchemy, a crisp, coniferous cologne into the atmosphere. These evergreen emanations are distilled into a dashing Douglas Fir distillation that captures the essence of the beneficial bark and sap-rich resin of giant, fallen fir trees.
As ancient trees exhale, the forest's oldest story unfolds with each inhalation. Imbibe the essence and envelope yourself in this unique, tranquil forest retreat.
Botanical Name:
Pseudotsuga menziesii
Botanical Family: Pinaceae
Extraction Method: Steam distilled
Part of Plant Distilled: Resin and bark of naturally fallen trees
Cultivation Method: Wild-crafted
Country of Origin: Canada
Composition: 100%
Pseudotsuga menziesii
Consistency: Thin, clear to pale yellow
Scent Description: Coniferous and refreshing. Balsamic and basil-like with a hint of pine.
Blends well with: Frankincense, Firs, Spruces, Cardamom, Myrtle, Cilantro, Orris Root, Grapefruit, Vetiver, Sage, Cedar, Bergamot, Silver Fir, Rose, Myrrh, Lemon, Vanilla, and Orange.
Uses: Majestic in massage oils. Key components for colognes, deodorants, and ceremonial spritzes. Restorative in baths. Botanicalbiotic for chest rubs, salt pipes, and diffusers for deeper breathing.
Constituents: a-Pinene, Limonene, endo-Fenchol, Borneol, a-Terpineol and Camphene.
Resin, the verdant life-force of the magnificent Pseudotsuga menziesii tree, is collected from felled decaying trunks and steam distilled to produce our Douglas Fir Bark Essential Oil, which differs from our classic Douglas Fir essential oil. Provenance provides nuanced variants in these sister essences as our Douglas Fir Bark comes from the cooler climate and old growth forest of the Canadian West while our iconic Douglas Fir hails from young mountain forests in France and the oil is distilled from the needles of the tree.
Douglas Fir Bark Essential Oil is a resinous, woody, and coniferous oil that has a slightly amberous aroma and hints of citrus sweetness from the limonene with a top note of basil from the Fenchol terpene. This fragrant fir essence fosters steadfastness and strength and delights and ignites hearth and home with the meditative mindset of a winter walk through ancient evergreen forests. It is divine in a diffuser!
The particular constituents of Douglas Fir Bark make it a beautiful botanicalbiotic for better breathing, and a drop in a salt pipe, a steamy shower, or a chest balm can refine and align the flow. The tenacious tenor and fresh gleam make it a dreamy addition to DIY housecleaning solutions.