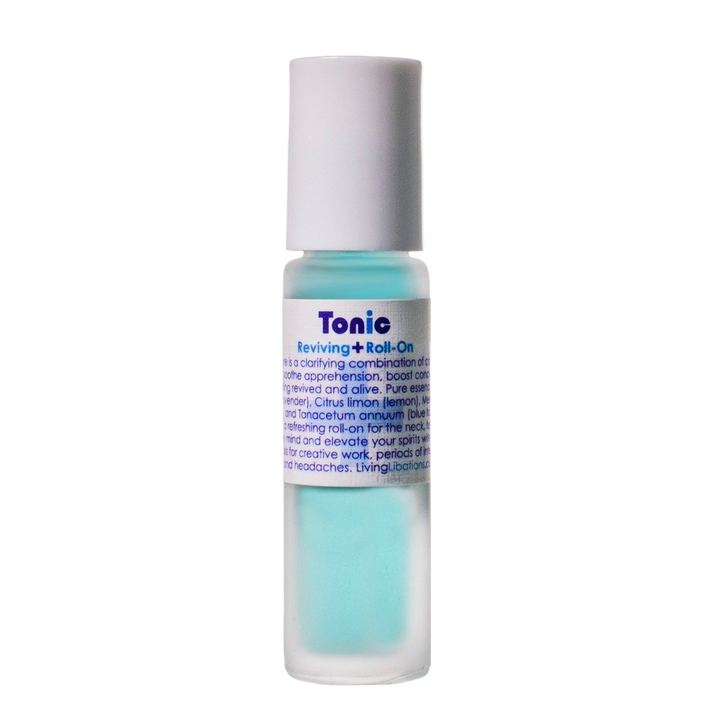 Quick overview
Details
Ingredients
Living Libations Tonic Reviving Roll-On is a talented treasure for your pocket or purse. This clarifying combination of calming and cooling oils melts tension, soothes apprehension, boosts concentration and brings you back to feeling revived and alive.
Available in 10ml
Now with Adventurine Quartz, instead of plastic, for the bottle's rollerball! Besides this gemstone being the cherry on top of already stellar Libation, Aventurine is characterized as a stone of prosperity that aligns to the heart chakra.
One simple swipe of this blue roll-on is all you need to bring your Self back to life.
Alight with a whisper of thanks to your body as you attain calm, cool clarity. Energize the mind and elevate your spirits with Tonic's melodious mix of bright botanicals for creative work, periods of intense focus, study, air travel, and pulsing heads.
Use:Swipe under the nose, tone the temples, anoint the pineal chakra, glide upon the chest, along tense muscles and necks.
| | |
| --- | --- |
| Lavender - Lavandula angustifolia | The lovely scent of Lavender cuddles the senses, letting nervous tension go and lessening mental restlessness. Lavender is a lullaby that dispels doldrums, furthers focus, soothes stress, and increases flow. |
| Peppermint - Mentha piperita | Potent Peppermint imprints this tonic with cool clarity. This minty-fresh wonder lifts the fog, it feels nice like ice on tense, pulsing temples and necks. This organic distillation adds energizing pep to this reviving Tonic. |
| Blue Tansy - Tanacetum annuum | This beautiful Blue Tansy oil is abundant in azulene and soothing sesquiterpenes, calming and cooling phytochemical constituents that are a soothing dream. |
| Organic Biodynamic Alcohol | Organic Biodynamic Alcohol serves as a carrier for tonic, allowing each botanical to effortlessly infuse the skin with aromatic wonders. This organic, biodynamic alcohol is pharmaceutical grade and triple-filtered for purity. It is independently tested to ensure it meets the United States Pharmacopeia (USP) standards for pure, organic, pharmaceutical grade alcohol. |
| Lemon - Citrus limon | Uplifting Lemon is cleansing and invigorating. It is used to clarify the skin, enhance circulation and blood flow, and support the skin's ability to replenish itself. The citrusy scent of lemon oil is said to lift the spirits, increase motivation, and make it easier to concentrate on demanding mental tasks. |