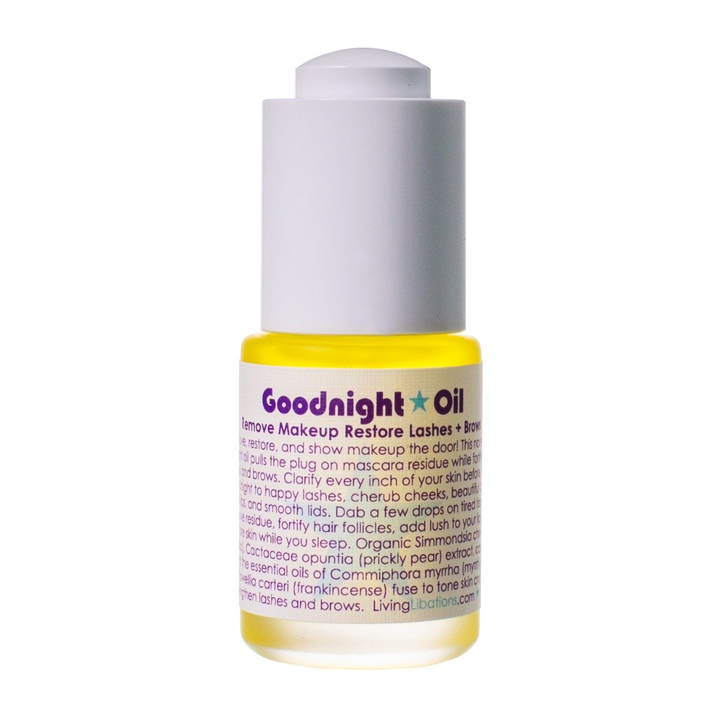 Quick overview
Details
Ingredients
Remove, restore, and show makeup the door! Goodnight Oil offers the cleansing properties of a makeup remover with the moisturizing properties of a rich, sumptuous, overnight skin and lash treatment. Cleanse your face with grace as you achieve a deeply clean, makeup-free face without harsh alcohols or surfactants.


Goodnight Oil is fabulously formulated with wholesome Jojoba to nourish, replenishing prickly Pear oil for deep hydration, Castor oil for clarification, Frankincense for fortification, and Myrrh to moisten with its restoring resin.
Our multi-tasking Goodnight Oil removes eye make-up as it strengthens skin, lashes, and brows. After all, a great makeup remover should restore and adore eyelashes and skin while you sleep!
Directions: Eye makeup remover. Just a drops or two of Goodnight Oil on a damp organic cotton round or swab will remove every speck of makeup, deep-clean each pore and opulently adore lashes and brows. A drop can also be used as overnight fortification for skin, lash, and brow treatment for those who don't wear or need to remove makeup.
15ml
| | |
| --- | --- |
| Jojoba - Simmondsia chinensis | Glorious, Golden Jojoba nourishes and conditions thirsty skin. Jojoba has an unparalleled ability to moisturize the skin, balance oil production, deep clean pores, and create long-lasting conditioning effects that soften skin to perfect silk. It is packed with peptides, lipids and contains the highest levels of phenolic compounds found in nature, along with antioxidants and all soluble forms of vitamin E. |
| Prickly Pear - Opuntia ficus indica | Also known as Barbary fig seed oil, Prickly Pear is a coveted carrier oil that hails from deep in the hot desert. It has been used for centuries by desert peoples to soothe parched skin that's been damaged by harsh desert winds and an unforgiving sun. Prickly Pear is nourishing, hydrating, and fortifying. |
| Castor Oil - Ricinus communis | Clarifying Castor oil keeps eyelashes and brows clean and healthy. It is also commonly used to ease wrinkles, fine lines, and dry skin. |
| Frankincense - Boswellia carterii | Frankincense is the pièce de résistance of skincare! It relaxes redness, firms the skin, minimizes melasma, and infuses the skin with copious moisture. It's also wonderful for reducing the appearance of scars and age spots. |
| Myrrh - Commiphora myrrha | Magnificent Myrrh essence contains the same otherworldly aroma and beneficial properties that made it a favorite of so many ancient civilizations. Ancient Egyptians used Myrrh oil to embalm and as a beauty unguent, detoxifying agent, and fragrant perfume. It was considered sacred in biblical times. They anointed alters with this potent sap as the epitome of purity. Myrrh has been used for over 3800 years as a powerful plant of restoration for skincare. With high levels of soothing sesquiterpenes, Myrrh is an optimal oil for reducing the appearance scars, spots, melasma, and red dry, dull, uneven skin. This opulent oleoresin is beautiful in sun bathing oils and glorious for glowing skin. |
Key Features:
Face Serum
Makeup Remover
Eye Makeup Remover