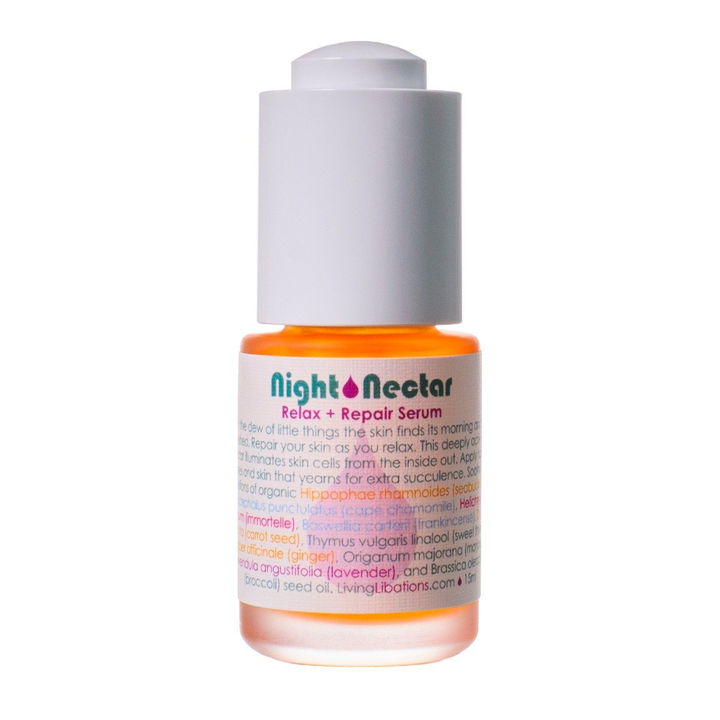 Quick overview
Details
Ingredients
With a drop of Living Libations Night Nectar, the skin finds its morning and is refreshed. For in the dew of little things, skin is blessed by the botanicals and lulled by the lush lipids that caresses the complexion with this nourishing nocturnal serum.
"The moon lives in the lining of your skin" Pablo Neruda
Because the moon lives in the lining our skin we have formulated a nighttime nectar that repairs and rejuvenates as you relax. Sleep nestled in this nighttime nectar to delight dry skin, plump fine lines, and replenish tone.
Directions: Sleep in skin that has been dabbed in droplets of this dew. Ample on its own and perfectly paired with Ensorcell Serum, use your palm as a palette to blend the two.
15ml
| | |
| --- | --- |
| Seabuckthorn - Hippophae rhamnoides | Seabuckthorn sends its lipids into the skin, diminishing imbalances from the inside out. This supercritical extract is brimming with omega fatty acids 3, 6, 7, and 9, antioxidants, vitamin, palmitoleic acids, carotenoids, and phytosterols. A single drop of seabuckthorn oil contains 190 different bioactive compounds. This bright orange essence is a ravishing replenisher and cleansing complexion clearer. |
| Cape Chamomile - Eriocephalus punctulatus | Captivating Cape Chamomile's exudes a beautiful, fine fruity-floral fragrance that is one of our favorite aromas. Cape chamomile has a high content of rare ester and azulene compounds that impart a teal blue hue to soothe all manner of skin imbalances. This rejuvenating essence balances sebum and softens the appearance of scars, and spots. |
| Immortelle - Helichrysum italicum | Everlasting Immortelle is stellar and shines divine for all kinds of skincare. This fragrant-floral oil is wild-crafted on the island of Corsica where the flowers prosper with ocean breezes and sunshine. The flowers grow at an altitude of 4,000 feet on the rocky countryside cliffs. Immortelle aids in abating the appearance of scars, spots, melasma, redness and fine lines. This multifaceted gem of an oil is uplifting emotionally as well. |
| Frankincense - Boswellia carterii | This is a holy, quintessential essence for cultivating the skin's reverence. Liquid pearls from the tree of life, frankincense is distilled from the resinous sap of the tree. Anointed and inhaled in spiritual ceremonies for thousands of years, this fine, fragrant oil increases the skin's resilience. Holding the wisdom of the ages, frankincense is formidable for soothing the appearance of scars, smoothing uneven skin, and minimizing the appearance of melasma and scars. This oil is a terrific tonic that for epochs has been a beloved botanical for body care. |
| Carrot Seed - Daucus carota | Queen Anne's lace anoints your face with queenly grace. Carrot oil balances oil production in pitch perfect ratios, regardless of your skin's current state. Oily, dry, and combination skin can all benefit from the moisturizing manna of carrot seed. |
| Sweet Thyme - Thymus linalool | Sweet Thyme is as strong as it is soft! It contains all the fortifying and toning power of the other types of thyme oils without causing irritation as it purifies pores. It is known to stimulate and energize the body and mind while being mild enough for use on young children and the elderly. Sweet thyme is luscious in linalool and is a treasured ingredient in our gentle skincare serums. |
| Ginger - Zingiber officinale | A hero in our aromatherapy-arsenal as it packs an herbaceous punch! Warm and zingy, it energizes listless tone and assists with enhancing the appearance of elasticity and firmness. |
| Marjoram - Origanum marjorana | Sweetly herbaceous Marjoram has been used to purify body, mind, and spirit since biblical times. Steam distilled to capture the botanical blessings of this fragrant herb, our marjoram's warm and penetrating aroma is serene. Its soporific scent, was revered by the ancient Greeks and Romans for its power to invoke peace and happiness |
| Lavender - Lavandula angustifolia | Lovely Lavender is a gentle-yet-powerful skin tonic that is restorative and calming. It relaxes redness and cools heated. Lavender can be used to improve the appearance of scars, even out skin tone, soothe acne, and balance the skin's sebum levels. |
| Broccoli Seed - Brassica oleracea | Broccoli Seed oil is opulent in unique essential fatty acids and plant phyto-nutrients. It covers the skin with a light, non-greasy protective layer that boosts and maintains proper skin hydration. This invisible coating melds moisture into skin. Broccoli seed contains high levels of arachidonic acid, a naturally-occurring fatty acid that is also found in the epidermal layer of the skin. Broccoli seed oil restores red skin to its natural calm color. |