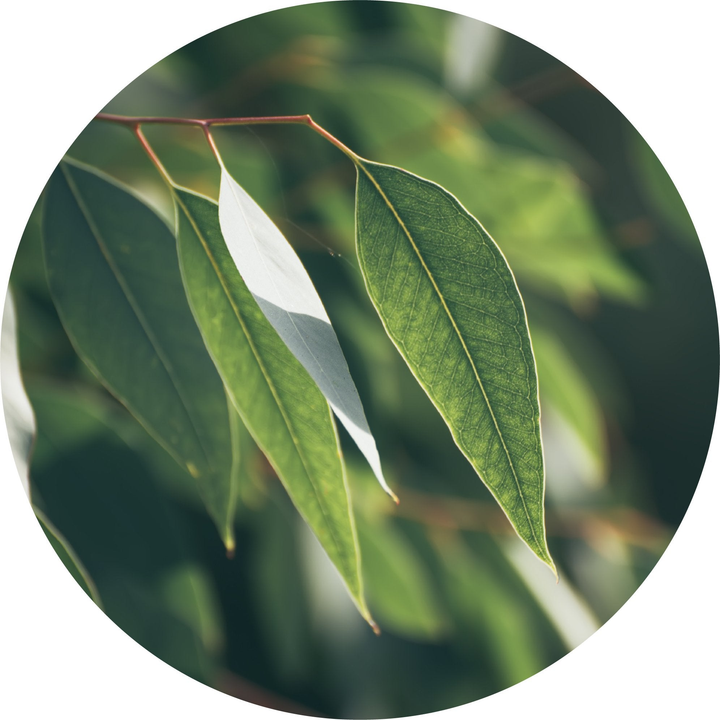 Quick overview
View or Download Certificate of Analysis
The verve and veracity of this Eucalyptus variety, Kochii, is the essence of clean. A soft-velvet green scent along with a commanding-camphorous core and a hint of lively mint flows from its abundant concentration of cineole, a unique plant compound that Eucalyptus is famous for. Copious cineole makes this Eucalyptus the premier for potency. Yet, its aroma is delightfully well-rounded, slightly sweet, and gently glides its vivid molecules across airways and expanded chests.
The super-sustainable Kochii tree produces a profusion of beneficial oil distilled from its organic waxy blue leaves and green branchlets. The activating essence is a breath of fresh air!
Details
Botanical Name: Eucalyptus kochii
Botanical Family: Myrtaceae
Extraction Method: Steam distilled
Part of Plant Distilled: Leaves and branchlets
Country of Origin: Australia
Cultivation Method: Wildcrafted
Composition: 100% Eucalyptus kochii
Consistency: Thin, light green to yellow color
Scent Description: Verdant velvet with a crisp camphor core that opens the door to restore vim and vigor.
Blends well with: Lemon, Sandalwood, Rosemary, Orange, Cypress, Juniper, Ravensara, Black Spruce, Eucalyptus, Hyssop, Inula, Blue Bush, Bergamot, Marjoram, Peppermint, Spearmint, Douglas Fir, White Fir, Sage, Blue Mountain Sage, Chamomiles, and Grapefruit.
Uses: Soothes and decongests the skin. Stimulating chest balm. Highly recommended to use with a salt pipe and aroma diffuser. Robust in rubbing oils for massage and dry brushing. Perfect for steaming sinuses. A classic camphorous aroma for saunas. Cleansing in baths. Excellent in oral care. Aerating for air travel. Adds a crisp, airy aroma to colognes and pleasing as a palliative.
Components: 90-95% cineole

Be bold in your balms, baths, and dry brushing and confident in your skin cleansing, house cleaning, and oral care concoctions. This is the verve of vapor rubs, the camphorous-champion of chest balms, and the lively liniment of muscle melting massage oils. A drop of Eucalyptus Kochii in a salt pipe, a warm shower, or a diffuser betters breathing, opens airways, and decongests your atmosphere. Its cheerful, conscientiously clean aroma adds an airy, active middle note to perfumes and liniments.

Eucalyptus Kochii is a 100% Australian Eucalyptus oil. The Kochii tree thrives in the hot and dry southwestern region surrounding Perth. In the late 19th century, the Australian government cleared the existing ecosystem in that area to create more land for wheat farming. As a result, ocean water started to seep through the ground, creating salinized soil issues that made the land unfarmable. To stop the salt spread, the farmers revegetated 25,000 to 30,000 acres with salt-resistant Eucalyptus Kochii trees. Those trees are now mature and are considered a sustainable crop for creating this steadfast and soothing variety of Eucalyptus essential oil.
Eucalyptus Kochii trees are vigorous growers, and every year some of the maturing trees are coppiced and the stump is left to send out new shoots, which encourages healthy, strong regrowth. Distillers collect the leaves and small branches and steam them to create our clarifying Kochii essence. The trunk and larger branches are burned for fuel during the distillation and the byproduct, biochar, is used to rehabilitate soil.