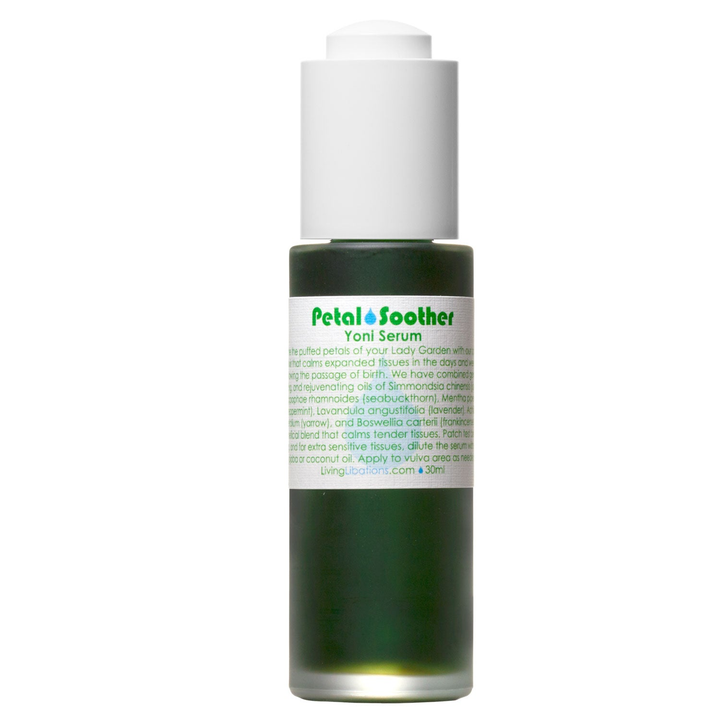 Quick overview
Details
Ingredients
Soothe the puffed petals of your Lady Garden with our Petal Soother Yoni Serum. Gentle, soothing, rejuvenating oils soothe, and lube tender tissues. This cooling elixir calms and tones intimate tissues in the days and weeks following the passage of birth or after any interruption in the usual habits of the yoni. This fabulous serum is the perfect-panacea to pacify redness and dryness. The essential oils in this blend gently cleanse the area as they work their magic.
Directions: As a daily or occasional lubricant. Perfect for petal-soothing massage. Patch test inside the elbow before applying to more sensitive skin. It may be diluted with jojoba or coconut oil. Note: Some people find peppermint oil to be a little intense at first. The intense feeling subsides to an ice cube coolness that is unsurpassed at soothing and cooling. People who are especially sensitive to peppermint may dilute the serum with a little jojoba or coconut oil.
Petal Soother Massage
Begin with clean hands. You may simply apply to the outside area, much like applying a serum to your face. Begin with a small amount of Petal Soother and add more as you progress. Apply the serum to your fingers and gently lubricate the area. Always be gentle with your love flower.
30ml
| | |
| --- | --- |
| Jojoba - Simmondsia chinensis | Heavenly Jojoba purifies your petals with softening compounds and nourishing antioxidants. Jojoba conditions the skin with B-complex vitamins and all absorbable forms of Vitamin E. This oil is remarkably similar to the body |
| Seabuckthorn Berry - Hippophae rhamnoides | Supercritical Seabuckthorn regenerates the delicate tissues of your Lady Garden after the passage of birth. Seabuckthorn suppresses inflammation and infuses your yoni with protective antioxidants, moisturizing agents and Omega fatty acids. |
| Peppermint - Mentha piperita | So nice and (better than applying a pack of ice), refreshing Peppermint cools and soothes your yoni. It calms skin that has become inflamed, irritated, or itchy. Fantastically clarifying and invigorating, Peppermint infuses your garden with cool relief. |
| Lavender - Lavandula angustifolia | Antioxidant-rich Lavender oil revitalizes damaged tissues, tones skin that has been stretched, fades stretch marks, and speeds the healing of your delicate yoni after giving birth. |
| Yarrow - Achillea millefolium | Yarrow is particularly suited to balancing skin oil production, especially in oily skin. It is high in cool, blue azulene to calm the scalp. |
| Frankincense - Boswellia carterii | Nourishing Frankincense delivers tone to the delicate folds of your perineal area. This sacred essence fades scars, prevents skin ulcers, decreases inflammation, and ignites the spirit with reverence. |
Key Features:
Coconut Oil Lubricant
Best Natural Lube
Organic Lube